Here at Baby Pants we take an active part in bringing solutions to parents and babies of all sizes. Sometimes we manage to find products that work equally well for big babies as well as little babies. But frequently it is necessary to scale a small baby sized product for the large babies. In the process of developing products our goal is not just products that look good, but products that are as fully functional as their small baby sized inspirations. The last step in the product development cycle is rigorous testing. The Baby Pants label is only applied after our total satisfaction with the look and performance of the product.
We have recently been swamped with inquiries about our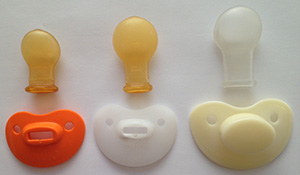 new silicone pacifier. While we are gratified with all the attention this is getting it definitely impacts our ability to provide attention to issues affecting larger groups of babies. If you would like to email us concerning the pacifier, please do so but know that we will keep the updates here rather than providing individual replies. The picture included here contrasts the orange NUK 3 on the left and the white NUK 5 (Medicpro (L) in the middle, to the new uncolored Baby Pants NUK6. Multiple colors will replace the uncolored sample on the right. Each pacifier will have two complimentary colors when we go to production. We can't commit to any time frames at this time but you will be advised when we are about 4 to 6 weeks away from the first shipments. The price each will be $29.95 initially.
Hooray, our hypnotic session therapist is back from sabbatical and busy making some new delights for you and your baby. She has completed the "Attachment Objects" session, which is available for you to DOWNLOAD now. We have also made available small free sample downloads for most of the sessions. Look for them on each sessions page.
We now have some fantastic new DIAPER PINS in stock. Perhaps the most impressive feature is the sharp point on the stainless shaft that glides through diapers almost like butter. You won't find these anyplace else. We had them designed and manufactured just for us. They are 3 inches long with a 2mm shaft. They are available in 6 delightful colors so you can color coodinate you babies outfits. The heads are all plastic and feature a safety lock just like the smaller baby pins. In fact these ARE baby pins but for bigger babies that are still in diapers.
The STARS are available now. The ever popular Pink Stars plastic panties as well as the equally popular Blue Stars are in our warehouse and shipping daily. We have selected a new plastic pant manufacturer with the promise of increased quality. You can see more details of both of these panties in the Baby Pants Classic plastic pants section of Products tab.
The Baby Pants SHORTALL is in stock and shipping now. Babies love them because it gives them unencumbered freedom to play and parents love them not only because of the convenience of a snap crotch to change diapers without undressing your baby but because you'll love the prestige of dressing your baby in the best, a quality product from Baby Pants. Not only are they conspicuously labeled as Baby Pants by our label on the back but every snap has the Baby Pants label. You will be so proud when everyone knows that your baby wears genuine Baby Pants.
CHEAPER BY THE DOZEN. We have added a new discount tier. When you buy 12 or more at one time of any one product (same size, print, etc.) an automatic 20% discount will apply to that product. The regular price is listed under "Price" and the discounted price is reflected in "Total." Of course we still have the 6 or more discount of 15%.
If you haven't already signed up for the newsletter you should strongly consider it now. We will be offering discounts available only through the newsletter coupon codes. Sign up for the newsletter by selecting it in Preferences in My Account.
For those of you in need of an invoice for your purchases we have added a green solution with a new button to generate a printable invoice. The button is located in your order history under "My Account"
We are pleased to offer an expanding series of downloadable therapy session files for those of you who have a strong desire for behavior modification. Please see a full description under the PRODUCTS tab.
We have been hard at work to produce an orthodontic silicone pacifier for adults. This has been under development for over a year. We found it necessary to redesign not only the nipple but the plastic shield. We just finalized the drawings which are now being used to create moulds for the parts. The shield for the traditional NUK Medicpro (L) (NUK 5) is 2 inches wide. Our new pacifier will be approximately 2.5 inches wide. The rest of the pacifier is proportionately larger. They will be produced in multiple boy and girl colors. We expect to be able to sell them for less than $30. Keep watching and get ready. Your craving is about to be satisfied.