Shipping
Domestic Shipping Policies
Baby Pants does its absolute best to get all orders correct and shipped in a timely manner. During the processing of your order you can expect the following:
YOU WILL RECEIVE A TRACKING EMAIL WHEN YOUR PACKAGE LEAVES OUR FACILITY
Our shipping software will automatically email you when your package leaves our facility; it will contain the tracking number and a link with which to look up your package progress on the shipping website.
ANY SHIPMENT LISTED BY THE SHIPPING AGENT AS DELIVERED WILL BE CONSIDERED COMPLETE
All packages that are listed as delivered, and with suitable tracking information entered into their tracking systems, will be considered delivered and our obligations will be considered fulfilled. We understand that you may have not received the package personally, but any delivery made under normal circumstances to the shipping address provided by the customer, a member of said household, mailbox, PO Box, or postal container will be considered fulfilled. We cannot be responsible for the package once it reaches its destination.
Discrete - Products are shipped in a heavy weight bubble wrap manila envelope, USPS flat rate boxes, white vinyl envelopes or occassionally a carboard box. Your address label will look like this: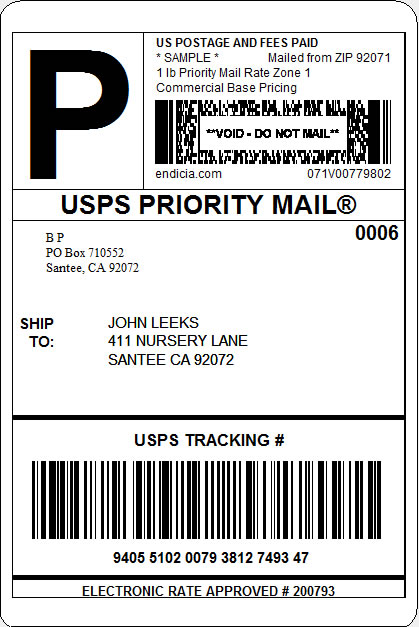 International customs information will have generic descriptions such as "clothing", "shirt", or "pants."If you use a credit card with PayPal for payment, it will show up as B P for the company name.
Inexpensive - Most shipping is by the United States Postal Service. Less than 13 ounces will ship by USPS fist class parcel. Over 13 ounces ships by parcel post or priority mail. Three or four plastic pants will usually be under 13 ounces. Diapers are over 13 ounces. International orders will ship by USPS first class international. The rate calculator uses the actual weight of each item to the nearest hundredth of an ounce, summing all items to give you the lowest shipping cost.
We have found USPS to be the least expensive, most reliable and fastest service. Every attempt is made to get your order out quickly with the large majority shipping the same day that we get your confirmed payment.
Included in your standard shipping charges, every domestic package will have a tracking number which will be emailed to you. International packages may be Insured.
USPS First Class International Package Shipping - This is an affordable way to send small packages weighing four pounds or less to international destinations. Using First Class Mail International, deliveries generally take between 7-14 days to arrive, although the USPS does not guarantee delivery dates or times. We have experienced shipping times as long as 6 weeks. Once the package is sent, you will receive a tracking number, but packages sent via First Class Mail International can only be tracked until they leave the US. Tracking of international packages is provided only on a voluntary basis by the receiving country. We have never seen this work. A tracking location inside the US does not indicate your package is not in your country, only that the last scan before being shipped internationally was a US facility. Final delivery of packages sent via USPS First Class Mail International is handled by the postal service of the recipient's country. Increasingly a package may be delayed by customs procedures in either the US or the recipient country. Choosing the "First Class Mail International Package" option is least expensive and the least reliable shipping service. Please understand that after a package leaves the USA we have no control over where it is, and we cannot track it. If your country has a notoriously bad post office, please do not choose First class mail international.
USPS Priority and Express Mail International Shipping - Any package weighing 4 pounds or more are required to be shipped by one of these services. They are much more expensive than USPS First Class International. For packages under 4 pounds the cost of shipping by these services will frequently exceed the value of the package. Express Mail International, while expensive offers the advantage of tracking outside the US borders.
Based on our shipping experience with thousands of packages sent:

Canada, Australia, New Zealand, UK, Ireland, Norway, Sweden, Netherlands, Switzerland, Belgium, France and Finland postal services provided reliable service.
Czech rep, Slovakia, Poland, Germany, Denmark, Austria - we have problems once in a while.

Italy, Spain, Japan, Portugal, South Korea, all South America and Mexico postal services have proved very unreliable.