There was a time not too many years ago that baby boys and baby girls both wore dresses until about the age of 4 or 5. It was easier to dress the babies and easier to change their diapers.For reasons unknown this cute and practical tradition was replaced by putting babies in short pants. Eventually boys and girls alike participated in wearing this practical garment. It was a rite of passage when a boy became a man and got to wear long pants. Baby Pants has brought back this timeless tradition with the introduction of the Baby Shortall. They are as practical for parents as they are for babies having snaps at the crotch to make diaper changes well... a snap. And of course they don't have a fly zipper in front that adults require. Unlike the traditions of old where age dictated graduation from short pants, we believe that behavior dictates graduation day and accordingly these shortalls are sized for fully grown babies who are still struggling, either mentally or physically, to graduate from shortalls. (A hint to parents whose babies are not cooperating with your efforts to get them into shortalls, remind them that the alternative to a shortall is a baby dress.)
Babies love them because it gives them unencumbered freedom to play and parents love them not only because of the convenience of a snap crotch to change diapers without undressing your baby but because you'll love the prestige of dressing your baby in the best, a quality product from Baby Pants. They are constructed of a blue denim fabric and have minimal shrinking. They are cut full in the hips so that even double cloth diapers and rubber pants can be accommodated for those mall excursions. Two pockets in back and two pockets in front as well as the bib pocket provide ample places for your baby's "treasures." Not only are they conspicuously labeled as Baby Pants by our label on the back but every snap has the Baby Pants label. You will be so proud when everyone knows that your baby wears genuine Baby Pants.
While not as soft as our organic cotton products, we only use 100% denim cotton which is much softer than "non-shrink, permanent press" products. After washing they are very suitable for extended wear without chaffing. The Denim Overall fabric is pre-shrunk. They will have very minimal shrinkage when laundered.

Large 7/8 inch snaps down the inside of both legs to permit mommy easy access for diaper changes. Baby Pants snaps not only carry our logo but remain snapped when required and yet are easy to open and snap closed. Each snap has the Baby Pants logo imprinted on it.

Large enough pockets to actually be useful. A large hand will actually fit in them to retreive "treasures."

Adjustable shoulder straps to make the best fit"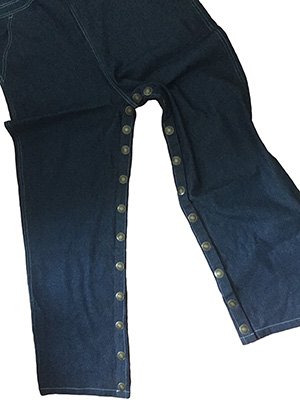 | | | |
| --- | --- | --- |
| | WAIST | Measure around the narrowest part (typically the small of your back and where your body bends side to siide), keeping the tape horizontal. |
| | HIPS | Measure around the fullest part of your hips, keeping the tape horizontal. |
| | INSEAM | Measure from the top of your inner leg along the inside seam to the bottom of your leg. |
| | |
| --- | --- |
| | Use the size chart to determine your size. If one of the measurements is on the borderline between two sizes, order the smaller size for a tighter fit or the larger size for a looser fit. If your measurements for hips and waist correspond to two different suggested sizes, order the one indicated by your hip measurement. |
"Tall" inseam is 2" longer than "Regular" We do not do custom pants. Modifications to the pants can be done by YOUR seamstress if necessary.
| | | | | |
| --- | --- | --- | --- | --- |
| SIZE | WAIST | HIPS | REGULAR INSEAM | TALL INSEAM |
| SMALL | 28-30 | 33-38 | 30 | 32 |
| MEDIUM | 32-34 | 38-41 | 31 | 33 |
| LARGE | 36-38 | 42-45 | 31 | 33 |
| XL | 40-42 | 46-49 | 31 | 33 |
| 2XL | 44-46 | 50-53 | 31 | 33 |
| 3XL | 48-50 | 54-57 | 32 | 34 |
| 4XL | 52-54 | 55-60 | 32 | 34 |
All dimensions in inches before washing and approximate.