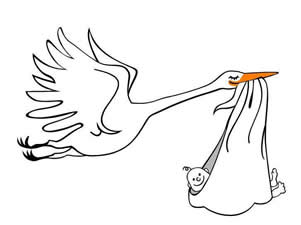 Here at Baby Pants we take an active part in bringing solutions to parents and babies of all sizes. Sometimes we manage to find products that work equally well for big babies as well as little babies. But frequently it is necessary to scale a small baby sized product for the large babies. In the process of developing products our goal is not just products that look good, but products that are as fully functional as their small baby sized inspirations. The last step in the product development cycle is rigorous testing. The Baby Pants label is only applied after our total satisfaction with the look and performance of the product.
Oh my goodness. How cute are these. We have more cute DIAPER PINS These pins are three and a half inches long with a stainless steel shaft and strong ABS plastic kitty to hold your diapers up. They are super sharp to make pinning easier. But wait... We also have Colored Ducky diaper pins. These are so new we havn't got the pictures finished yet.
Please don't panic! You have probably been concerned that the super crinkly Gerber White plastic pants are only available in limited sizes. We have a new batch of super crinkly PEVA plastic pants being manufactured now. The new pants will be the Gerber Frosty and the same pant with the jungle friends print on them.
We have Babies Nursery Print footed jammies in stock and shipping in a full range of sizes.
The Baby Pants SHORTALL is now stocked and shipping in a second color. The newest addition is the "Choo Choo" print which is perfect to dress your baby in when playing trains. The Blue Denim shortalls are still available and babies love wearing both shortalls because it gives them unencumbered freedom to play and parents love them not only because of the convenience of a snap crotch to change diapers without undressing your baby but because you'll love the prestige of dressing your baby in the best, a quality product from Baby Pants. Not only are they conspicuously labeled as Baby Pants by our label on the back but every snap has the Baby Pants label. You will be so proud when everyone knows that your baby wears genuine Baby Pants.

We have a solution you are going to love. Baby Pants Classic Nipples are baby nipples especially for adults. The nipple is the same length as the NUK nipple but without the crazy shape and with a medium flow hole already complete. They are silicone and will fit any standard baby bottle. Now rather than having your babys improperly latch using their teeth, the nipple extends into the sweet spot between the tongue and palette creating a strong suction and a content baby.
The Baby Pants Classic Pacifiers are here. These pacifiers are not a modified baby pacifer but rather a larger sized pacifier designed from the ground up for adults that still need the comfort of a pacifier.
THESE ARE ADORABLE
We are stocking a new print called "Cuppy Cake" which is shipping now. It is available as training pants, onezies and t-shirts. You can view the new print on the Cuppy Cake Onezie product page.
If you've taken your little ones to Disneyland you know what a hit the "Cars" ride is with them. Our version of those fabulous "Cars" is now available. Cars nursery print is available as training pants, onezies and t-shirts. You can view the new print on the Cars Onezie product page.
We now have some fantastic new DIAPER PINS in stock. Perhaps the most impressive feature is the sharp point on the stainless shaft that glides through diapers almost like butter. You won't find these anyplace else. We had them designed and manufactured just for us. They are 3 inches long with a 2mm shaft. They are available in 6 delightful colors so you can color coodinate you babies outfits. The heads are all plastic and feature a safety lock just like the smaller baby pins. In fact these ARE baby pins but for bigger babies that are still in diapers.
The STARS are available now. The ever popular Pink Stars plastic panties as well as the equally popular Blue Stars are in our warehouse and shipping daily. We have selected a new plastic pant manufacturer with the promise of increased quality. You can see more details of both of these panties in the Baby Pants Classic plastic pants section of Products tab.
CHEAPER BY THE DOZEN. We have added a new discount tier. When you buy 12 or more at one time of any one product (same size, print, etc.) an automatic 20% discount will apply to that product. The regular price is listed under "Price" and the discounted price is reflected in "Total." Of course we still have the 6 or more discount of 15%.
If you haven't already signed up for the newsletter you should strongly consider it now. We will be offering discounts available only through the newsletter coupon codes. Sign up for the newsletter by selecting it in Preferences in My Account.
For those of you in need of an invoice for your purchases we have added a green solution with a new button to generate a printable invoice. The button is located in your order history under "My Account"