Diapers are all about absorption. We have carefully chosen fabrics and styles of diapers with this criteria. Our fabrics are all woven. This provides open space in the surface and increase the absorption rate and greatly reduces leaks. You will note that we do NOT offer a flannel diaper. Flannel is a random organization of fibers without a pattern AND without the air spaces between fibers that increases the surface of the fabric and hence the absorption rate. Wearing the colors and prints of flannel diapers may be very "cutsey" but they aren't effective, real diapers. They are just really nice costumes ...which we don't sell. ALL of our products are very functional as well as giving your baby a very "smart" look in a very traditional way.
Prefold diapers are a variation on flat diapers. Rather than folding multiple flat diapers together a single prefold diaper provides multiple layers with a unique construction placing additional absorption layers in the center one third (wet zone) of the diaper. They are rectangular in shape and are provided in multiple sizes taking much of the folding work out of diapering.
Contour diapers are a newer non-traditional diaper sold almost exclusively in the adult market. They have an hour glass shape which moves some of the bulk away from between the legs. These diapers are best used where discretion is more important but never over night. Because of the loss of folding flexibility the choice of size is more critical.
We offer diapers in three 100% cotton fabric weaves:
Birdseye is the traditional weave of choice for cloth diapering mothers. When you hear reference to the "Chinese Laundry" diaper, traditionally this is the prefold birdseye diapers which has become the gold standard of diapers. The name comes from the weave appearance. Birdseye is the strongest of the cotton diaper weaves and will last hundreds of cycles.
Twill weave has a very unique quilted appearance. It's not as strong as birdseye but it's slightly softer and the quilting helps with the absorption rate preventing leaks.
Gauze weave is the softest of all the weaves but won't last as long and may need additional layers to provide enough bulk and absorption. It also will quilt up increasing the functionality.
All our diapers are measured before washing and will shrink after washing. They will shrink approximately 10-15% in length and 5-10% in width. One washing isn't sufficient to fully shrink them. They will also fluff up and grow softer with each washing. The material grows thicker as it shrinks in length and width.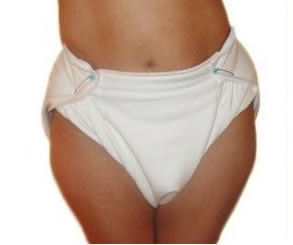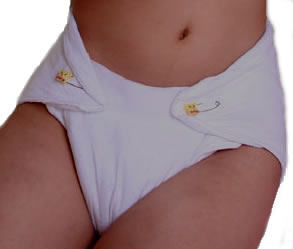 Birdseye weave cotton cloth prefold diaper are heavy night time weight with 4 x 8 x 4 plys. High quality cotton birdseye fabric is soft and absorbent. The "wet zone" in the center third of the diaper is all fabric with 8 layers of 100% birdseye weave cotton.
Twill weave cotton cloth prefold diaper are heavy night time weight with 4 x 8 x 4 plys. High quality cotton twill fabric is soft and absorbent. The "wet zone" in the center third of diaper is all fabric with 8 layers of 100% twill weave cotton.
Cotton gauze cloth prefold diaper are heavy night time weight with 6 x 10 x 6 plys of double knit gauze. However the gauze is a lighter thinner fabric making these diapers roughly equivalent to the weight and thickness of our birdseye diapers. High quality cotton gauze fabric is soft and absorbent. The "wet zone" in the center third of diaper is all fabric with 10 layers of 100% cotton gauze.
Baby Pants are long lasting, high quality diapers. Many (most) competing diapers use a cheaper terry, foam or flannel filler in the thicker, center wet zone covered by the diaper fabric. This causes drying problems, provides a haven for bacteria and is difficult to pin through. We recommend that parents double diaper the baby during the night and use a single diaper during the day even though these are night weight. When you measure the waist for diapers, it should be at the navel. If in doubt get the larger size. These diapers are easily folded to make a larger size fit but they can't stretch should you buy too small. Diaper your baby with the top edge of the diaper at the level of the navel. If the diaper is too long then fold them over in front for boys and in back for girls. Some parents aren't as comfortable with this thinking it's too high. Observe babies in cloth diapers. Experienced mothers know this is how to prevent leaks. Where diapers are concerned more diaper equals more absorbency equals no leaks or wet pants.
Baby Pants PreFold
Diaper Sizes


WAIST SIZE
(after laundering)


DIMENSIONS
(unwashed)


Adult Medium

fits up to 32"


81 cm

36" L x 27" W


91 cm x 69 cm

Adult Large

fits up to 42"
91 cm

40" L x 32" W


101 cm x 81 cm

Adult X-Large

fits up to 52"
101 cm

44" L x 35" W


112 cm x 89 cm

Adult 2X-Large

fits up to 56"
101 cm

48" L x 38" W


122 cm x 97 cm

Adult 3X-Large

fits up to 62"
122 cm

52" L x 42" W


132 cm x 107 cm
Expect them to shrink 10-15% in length and 5-10% in width with multiple washings.
Baby Pants BIRDSEYE CONTOUR XL DIAPERS and BIRDSEYE CONTOUR 2XL DIAPERS are out of stock in the BABY PANTS label. We have the exact same diaper in a different label and all white thread instead of the pink and blue thread of the BABY PANT labeled diapers. We will ship the alternate labed diaper if you order CONTOUR BIRDSEYE XL or 2XL DIAPERS. Contact us if you have questions.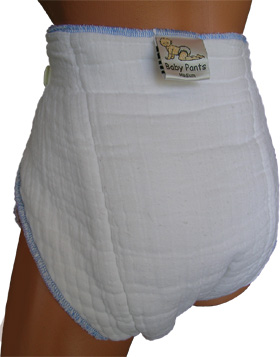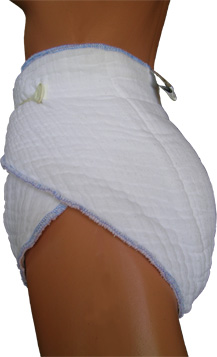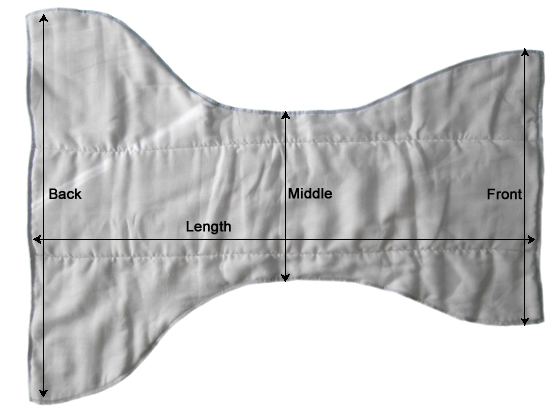 Baby Pants Contour
Diaper Sizes


DIMENSIONS (unwashed)


WAIST SIZE
(after laundering)



Front



Middle



Back



Length


Adult Medium

fits up to 32"


76 cm

23"


58 cm

11"


28 cm

31"


79 cm

36"


91cm

Adult Large

fits up to 42"
96 cm

27"


69 cm

12"


30 cm

37"


94 cm

40"


102 cm

Adult X-Large

fits up to 52"
112 cm

30"


76 cm

13"


33 cm

40"


102 cm

44"


112 cm

Adult 2X-Large

fits up to 56"
101 cm

33"


84 cm

14"


35 cm

43"


109 cm

48"


122 cm

Adult 3X-Large

fits up to 62"
122 cm

36"


91 cm

15"


38 cm

48"


122 cm

52"


132 cm
Expect them to shrink 10-15% mostly in length with multiple washings.
There are many washing regimens for diapers and much of it depends on your individual schedule and preference. When you use a diaper pail we recommend just covering the soiled diapers with water and a small amount of detergent. Never use bleach which breaks down the diaper fabric and shortens their life. Typically when you have a full load of diapers we recommend a cold water wash with no detergent followed by a hot water wash with a good oxidizing detergent. An example is one by "Arm and Hammer plus Oxi Clean." We used to sell the Rockin Green brand detergent but feel it no longer is a reasonable value to you and have discontinues it. It does however contain an oxidizing agent which is the same thing we are recommending you use. Diapers will occasionally acquire a "funky smell" and will need stripping. There are numerous stripping techniques which you can review on YouTube. The use of a good washing regimen will minimize the stripping requirement. The absolute best way to dry diapers is hanging them on the clothesline in full sun. Not only is this "green" drying at it's best but the sun will help sanitize them, imparting a fresh clean smell that you just can't get in a clothes dryer. We recommend taking you diapers in off the line when they are nearing dry but still a little damp and drying them to "extra dry." This will fluff them up giving you the best of both drying techniques. Under no circumstance should you use fabric softener in either the washer or the dryer. They coat the fabric and dramatically reduce it's effectiveness.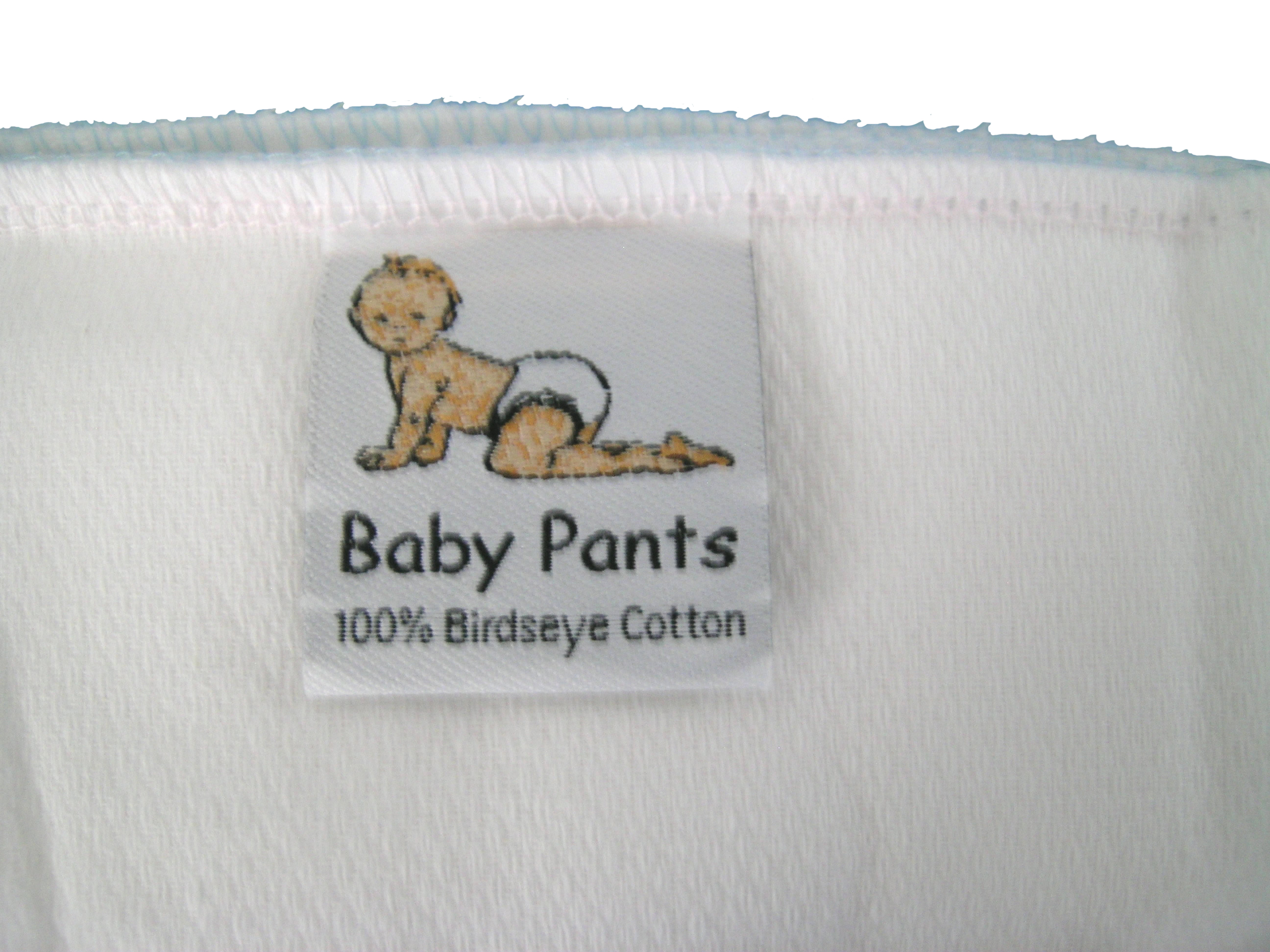 The Baby Pants label should face out in the back to prevent irritating tender skin. The label is your assurance that your baby is wearing genuine Baby Pants diapers and not an adult product. These diapers are exactly the same product we sell parents of small babies but sized for your big baby. You can be proud that your baby wears genuine Baby Pants diapers.
You've probably heard about cloth diapers. No doubt you are considering them if you are visiting these pages on our site. Cloth diapers are an economical and environmentally friendly solution for those not ready for potty training yet. If this is you, then you are probably older that the traditional potty training age of 2 to 4 years old. You have probably felt some of the stigma associated with wearing diapers at an older age. Most of your diaper peers are under the age of 3. We'd like to encourage you to celebrate your diapers. Babies are sweet, cuddly and loved. Isn't this who you'd like to be? In the following discussion of diapering we will collectively refer to all our diaper wearers as babies and collectively all the care givers as mommies becasuse this is the largest segment of care givers. We will also collectively refer to the waterproof diaper covers as rubber pants because this is the very traditional term even though rubber is seldom used anymore.
Diapers and rubber pants work together, preventing wet beds or clothes. The job of the diaper is absorption and the job of rubber pants is to stop wet diaper contact with clothes or beds. It's uncomfortable and not necessary for rubber pants to be so tight aroung the legs or waist that they prevents liquid escape. However if they are too loose around the waist or legs then normal movement, stretching, twisting, rolling, turning can pull open the opening and potentially allow exposure of wet diapers. Some fabrics work better than others to absorb wetness. A good diaper fabric will be able to absorb wetness quickly preventing it from trickling beyond the diaper fabric. Woven cotton fabrics are the most widely used and are very effective. As noted earlier flannel is a poor choice because it presents a smooth surface encouraging trickles rather than absorbing them. Interestingly a diaper that quilts has the potential to keep babies cloths dry by virtue of the barriers they present to trickles allowing them to be absorbed rather than running out the diaper. As a diaper nears saturation the risk of leaks is increased. A good rule of thumb is to use 2 ounces (weight) of fabric for every ounce (liquid) of wetness. As an example you should expect 8 to 12 ounces (liquid) of wetness overnight so you should use up to 24 ounces (weight) of cloth diaper. This is why we recommend double diapers for overnight. Similarly we recommend diaper changes every 2 hours during the day. This is as much for skin hygiene as leak prevention. Using this rule of thumb also allows us to predict how many diapers your baby will need. Washing diapers every other day, you will need two dozen diapers to keep your baby comfortably diapered. Diaper liners are a good idea to make cleaning poopy diapers easier.