We are pleased to introduce an expanding series of therapy sessions in the form of mp3 downloads. They were thoughtfully compiled by a degreed, licensed therapist who uses her recorded sessions with you to assist in your behavior modifications. We have intentionally kept the price low to help as many of you as possible. While they are inexpensive they are anything but cheap. She will spend approximately an hour with you in each recorded file which should be repeated at least three times a week. Our personal experience is that more is better. When you have made your choice and payment you will be able to download the file by logging into your account. After 5 downloads of your purchase you will need to email customer support if you need additional downloads. Please remember that this is copyright material and it is NOT OK to share.
A brief guide to hypnotic training
What is hypnosis?
Hypnosis, as we understand it today, bears little resemblance to the magical trances and magnetic force fields of the past; and many of us experience it every day in our normal, waking lives. You have most likely experienced a hypnotic trance yourself, for example when driving to a familiar destination and finding your mind wandering as you steer and shift on autopilot. Or when reading a book, and realizing that you will have to go back several paragraphs, as you have no idea what you've just read. A hypnotic trance is not the 'deep sleep' we see in movies, but rather an induced state of focused relaxation; which narrows down the attention span of the subject in order to subconsciously explore thoughts, feelings and ideas. Consciousness is not lost during trance, but enhanced; and the hypnotic subject will generally retain the ability to respond and remember details of the session.
There are no magic words involved, no pocket watches, and certainly no mind-control devices. Although all of those things can make for an interesting fantasy, and are still employed by some for the sheer drama of it. In truth, all hypnosis is self-hypnosis. The role of the hypnotist, is merely to facilitate the trance by means of relaxation techniques, and steering the mind in the desired direction. And so you understand, that nobody, no matter how skilled a hypnotist they may be, can force a hypnotized person to do anything that they object to. No hypnotist can turn you into somebody else, or change your personality completely. Hypnosis works because you want it to work. At the same time, an artful hypnotist is often able to bring thoughts and behaviors to the surface, which the subconscious mind has buried so deeply that the subject may be barely aware of them.
The subconscious mind
Let's take an example. Let's say our hypnotic subject would like to stop smoking. She has been smoking for twenty years, and knows that she would like to stop, she has consciously made the decision to stop. And yet for some reason, she just can't seem to resist. She knows that this behavior is not what she wants, she knows she would like to stop. She is battling internally with her subconscious mind, which, although she is unaware of it, knows only that smoking brings her pleasure and relieves stress, and has done for a long time. Her subconscious mind and her conscious mind are not in agreement, and so she is unable to stop smoking.
During hypnosis the logical and analytical left-side of  the brain has the volume turned down on it, and the reactive, emotional right-side of the brain is enhanced. The subconscious mind is a much more instinctive and intuitive force than the conscious mind, and understands things on a different (and possibly simpler) level. And so in hypnosis, what we are really doing is communicating our conscious desires to the previously ignored subconscious mind. Allowing us to bring about harmony and unity, and thus have the power of our entire will available to implement changes. This works not only in stopping certain behaviors, but also in implanting new ones.
Hypnotic training
Hypnotic training, is simply the use of self-hypnosis to achieve a goal. There is no hard and fast set of rules which everyone must follow to obtain the desired result. Just as every person has a different personality, so every person also responds differently to hypnotic training. To some few, it may take a relatively short time to achieve the goal, as little as two or three sessions. But to most, a longer time-span is necessary, in order to bridge the gap between conscious and subconscious desires.
The hypnotic training sessions that you will find on this website, have been carefully crafted to help you to achieve not a short-lived group of actions, but a genuine lifestyle change. It is our wish to help you to achieve the very best results possible; these sessions are not guided fantasies, and they are not a story to fall asleep to. They are a comprehensive guide for your subconscious mind, to help steer you towards the ultimate goal of regressing to infancy in your behaviors and reactions. A way for you to let go of your every-day life, and experience the purity and innocence again, which is so difficult to find in adult life.
To benefit most from these sessions, it is often best to know what to expect. Some people may decide to listen to the session casually first, without going into trance. That's perfectly fine, it doesn't matter at all if you do this, it will make no difference when you do go into trance. Some people may find their minds wandering, not wanting to concentrate on the words spoken. Again, that's perfectly fine and completely normal. There are some people who have tried hypnosis previously, and think they aren't able to be hypnotized. Although this is possible, it's very rare not to be able to go into trance. For most of these people, the problem isn't their lack of ability, but what they have been led to expect hypnosis to feel like. Hypnotic trance does not switch you off, it focuses you and tunes you in directly. You can still hear and see and respond easily, doing that does not mean you aren't in trance, it means that your conscious mind is wandering. That's perfectly OK, it means only that you have a strong mind and a good imagination, both of which are fantastic things to possess.
Listen to these sessions in a quiet place, preferably with headphones, and one at a time. Start at the beginning, and if you can possibly resist, don't begin the next until you've achieved the goal of the first. Overloading your subconscious will lead only to confusion and refusal, and so it really is better to go slowly but surely. If it takes three weeks of listening each day to a single session, then that doesn't mean you're failing, it means only that your subconscious behaviors and feelings are deeply rooted. Reaffirm your desires by listening to the session at least three times a week if possible, and you will get there. Going into trance and accepting hypnotic suggestion is much like anything else, it takes a little practice.
And lastly, just have fun with it! Your hypnotic sessions have the possibility of being the most wonderfully relaxing and freeing experiences. Embrace the changes, and you may just begin to see yourself in a whole new light.
Samples are provided at no charge and are aquired by making a zero cost purchase of the desired sample. They can then be download just like any of the therapy session files. Please be sure you download and don't stream which is the default for iphone and other Apple products. Samples must be manually activated by our staff so there can be a delay before your download will be available. IF YOUR ONLY SHOPPING CART PRODUCTS ARE SAMPLES, PLEASE USE THE "Pay by Money Order" OPTION.
Select the samples you would like
Your selected session will be in your shopping cart just like other products. After you have made your payment on PayPal for your products including any digital sessions, you will be able to download your digital sessions by logging into your account and accessing "Purchases" tab in "My Account" There may be a small delay after you make payment before you will be able to see your most recent purchase in your order history while the payments are processed and we are notified. Your purchased digital file will activate a download button in your order history. These files are not small so be patient as the file downloads onto your computer. The file format for all of these sessions is mp3 which allows you to listen to them in many ways including on your computer or your ipod. If you encounter any difficulties please don't hesitate to ask us for help.
Please be sure you are "downloading" and not "streaming" from the site. Downloading means a digital copy is being put on your computer. Streaming means that nothing is being saved and you are listening in real time. Our site is not set up for "streaming." If you do this, you will overload the server while getting poor results for yourself. When you "download" you won't hear anything. Each browser accomplishes "downloads" differently. One popular browser, Internet Explorer" will download as is in this image: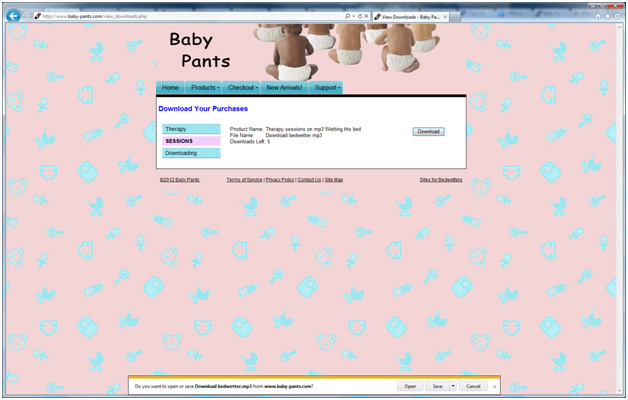 The bar at the bottom of the page controls open, save or cancel. You should save.
This hypnotic training session is designed to help you accept the continual use of your pacifier, and to depend upon it for comfort and stress-relief in much the same way that a very young child does. Repeated use will strip away any shame or resistance you may feel when using your pacifier, allowing you to fully enjoy and appreciate the wonderful feelings of peace and calm associated with it. This session is intended to bring about a permanent change in your mind set; the ultimate goal being that you will feel the need to take your pacifier everywhere you go, and possibly even use it in public. Without it, you may feel lost and on edge, your pacifier is your ultimate security blanket, and that's just how you like it.
Downloaded file size: 51,508 KB
Bedwetting is much more prevalent than the common perception. It's one of those little secrets that is seldom shared. It's often associated with heavy anxiety. Parents push babies to potty train like it was an olympic event which only adds anxiety at an early age. But what if it was OK to wet your bed? What if you could be back in the security of your diapers and no longer felt anxious about wetting the bed. Now you can with the assistance of this therapy session download. Now you can have a "do over." This session will train you to wet the bed or your diapers. You can become so anxiety and stress free that you will wet your bed every night while also ridding yourself of the embarrassment and guilt of wearing diapers and rubber pants to bed.
Before you embark on these exercises to achieve anxiety and stress free nights of sleep, please be aware that this isn't like a light switch. When you go on vacation you'll need to take diapers.If you take an afternoon nap, you'd better be diapered. And finally if you ever decide that you want to be a big kid, it is a process to achieve those dry nights. Embedded in your therapy sessions are the suggestions that will allow you to work your way back to dry after the hard work of potty training.
We would like to suggest a number of things that will help you in your quest to shed your bed wetting anxiety. You must not have any fear of leak problems. Hands down cloth diapers are far better than paper diapers at preventing leaks while you sleep. Cloth diapers provide more absorption even on the sides where paper diapers are lacking. Don't try to undersize your plastic pants. With double diapers and correctly sized plastic pants you will minimize leaks. But eventually, occasionally you will have a little leaking. This is why we recommend that bedwetters sleep in cribs. Not only do you get the protection of a waterproof mattress but you eliminate the anxiety of falling out of bed. As every mother knows the only way to keep a baby in a crib warm all night long is to put them in a blanket sleeper. A baby blanket is good but won't replace a footed blanket sleeper. Of course pillows need to be inside waterproof covers. Everything is the crib must be waterproof or washable. You may not be able to move directly into a crib but the same principles apply. Washable and waterproof takes away anxiety. We've heard the questionable advice to drink gallons just before bed. We'd like to offer an alternative. A dry diaper will contribute to your anxiety because you have been taught to keep dry. However a wet diaper won't cause the same concern and resistance to wetting. After all it's just a little more, right? You should practice wetting in any and all positions. You can even extend this practice by wearing a day diaper. Practice good hydration. You should drink 8 to 12 glasses of water throughout the day. This is a healthy practice but it also keeps you flowing. Just before bed drink a glass of water. Take a baby bottle to bed with you. It only makes sense since a glass in the dark is subject to spilling. Not only will this keep you hydrating at night but if you are also using the Pacifier Dependence session, you will awake refreshed.
Downloaded file size: 45,377 KB
This hypnotic training session is designed specifically for those that wish to cultivate more infantile habits during the daytime, and follows closely from the previous bed wetting session. Re-train your body and mind to accept that wetting yourself during the day is natural and easy, and that wearing your diaper and plastic pants every day will keep you feeling safe and secure in your inability to hold your bladder. This is a semi-permanent training session which can only be undone by taking the same steps as a young child, in potty training. So before you download this mp3, be quite sure that you are willing and prepared to take this step. If you are ready, this session will help you to achieve your goal of stress free days without concern to stay dry while cultivating a wonderful attachment between you and your diaper.
Downloaded file size: 46,876 KB
In this session, we will be exploring the mind set of a young baby or child. Often when children are very young, they may have little concept of right and wrong, and may need firm guidance in learning how to be obedient to their parent or guardian. In this session we will be implanting suggestions of child-like obedience to your carer, which of course incorporates trust and a desire to have your carer be proud of you. As adults, we are taught that showing strong emotions is a sign of weakness, whereas in young children it is completely natural and expected that there will be incidents of tears as well as of smiles. This training session will help you to accept that showing your emotions by crying is a good thing, and that tears can be beneficial in dealing with matters of conscience.
Downloaded file size: 53,400 KB
You would like to rid yourself of adult problems, difficulties and shed the adult baggage. Probably the most difficult adult baggage you would like to shed is getting aroused when you wear a diaper. It's so distracting when you are trying hard to only have baby thoughts and get rid of all those adult stresses. In this session your therapist will work with you implanting suggestions that anytime you are wearing your diaper and rubber pants and feel any arousal, your mind will fill with baby thoughts that will become stronger and stronger making you feel younger and younger. The more arousing things you see or think, the younger you will feel and the more baby your experience will be, until you are too innocent to notice any kind of arousal.
When this session is accompanied by the obedience session a parent/baby relationship will be enhanced in that the parent, by denying the baby permission to remove their diaper, can deny the baby any kind of adult sexual experience.
Downloaded file size: 51,800 KB
I'm sure you've all been called or know of someone who has been called "Potty Pants" when the odor from filling your diaper fills the air. But perhaps being a "Potty Pants" isn't a bad thing. Constipation occurs when the baby's stools cause significant difficulty and discomfort when being passed. Anxiety, stress and the lingering negative associations with having "Potty Pants" are strong contributors to constipation. This session will help you overcome all of this, and accept that it's a very good thing to do a poopy in your diaper, avoiding retention. You will learn to accept that wearing a diaper, being a baby and having potty pants are all good for you. The focus of the session will be directed primarily on achieving these positive results while sleeping soundly. While you are working on these session results we recommend that you add dark fruit (prune or pear) juice to your baby formula. Also, just take extra nursing bottles of water or electrolyte solution between feedings, especially in this hot weather.
Downloaded file size: 55.5 MB
Oh my goodness! Now who did a stinky in their diaper? It won't take long to find out that you did because you've been listening to this session. This session extends the "Potty Diaper Nights" session to also include your daytime hours. Constipation will be a thing of the past when you learn to potty in your diaper anytime, anyplace. Unlike the night potty session you may be aware that you are filling your diaper. You probably won't recognize the signs that you will be going potty in your diaper but you will probably become aware that it is happening. It won't embarrass or humiliate you. You won't try to stop it. You will just feel deep inside you, an immense pleasure and joy that you are a baby and fill you diapers just like every baby does.
THIS SESSION IS NOT YET AVAILABLE.
Nursing is a natural instinct for all of us. As we grow and are weaned this instictual behavior is overcome by inhibitions, guilt and embarrassment. Adult males presented with a breast often revert to instinctual behavior because they really don't know what else to do. This becomes part of their courting behavior even though the breast is not a sexual organ. This therapy session will help repurpose the adult nursing instinct instilling deep satisfaction when nursing with a baby bottle or breast. The inhibitions, guilt and embarrassment you might feel today will be overcome leaving you with the sweet natural instict you were born with. The urge to nurse and the deep satisfaction it produces will be so strong that you will sleep like a baby when you nurse before bed. You may find that you prefer a bottle to a glass and you may even find that nursing in public is natural. You might be able to temporarily relieve the necessity to nurse by sucking your pacifier. The nursing and pacifier dependence sessions are a very powerful combination.
Downloaded file size: 55 MB
A very common problem that many babies face is the constant binge-purge cycle, constantly buying the products a baby needs but then feeling guilty that you have indulged the baby inside and discarding anything baby. Even though you feel guilty you know that the baby will always be there. This session will help you come to peace with this turmoil. To accept that you really are a baby and there is absolutely nothing wrong with that. You will understand and accept that you sometimes have to pretend to be an adult. You will understand and accept that you are a baby. You will learn to love the gentle, kind, innocent baby that you are. You will no longer be ashamed or embarrassed that you are a baby. You won't be ashamed or embarrassed that you wet your pants or the bed because after all, you are a baby. You won't be ashamed or embarrassed when your parent puts you in diapers or you put yourself in them. You will be proud that you wear diapers and plastic panties so your pants stay dry. You will feel that innocent excitement whenever you get new baby clothes, nursing bottles, pacifiers or anything that is uniquely baby, especially for you. You won't even care if your parent dresses you in snappy pants puts a baby leash on you and takes you to the park. You are after all a baby and you will now totally accept this.
Downloaded file size: 49.7 MB
Whether it's a threadbare blankie or a dog-eared doggy, babies form strong attachment bonds. These attachments peak at about two years old so there is no reason to believe that your needs are any different. This session will help you become completely bonded to your lovey. You will loose all shame and embarrassment over this characteristic baby behavior allowing you to take your lovey with you to work, to the store, or when you play. You will find comfort having your lovey close to you and you will be agitated when it isn't. You will find deep peaceful sleep when you take your lovey to bed with you at night.
Downloaded file size: 51.5 MB
Television is a rich source of learning as well as entertainment for your baby. Shows such as Sesame Street, Thomas the Train and Mr. Rogers have mesmerized babies for decades. Unfortunately as we grow older but not necessarily grown up, we lose the fascination and the joy that the rest of the diaper brigade feels when watching programming for babies. This session will help restore the infant joy and delight of watching television directed at babies still in diapers as well as younger children who are probably still in training pants.You may clap and laugh and feel giddy with delight. You may even lose interest entirely in adult television and much prefer your baby shows. A word to parents with babies in diapers and younger children in training pants, even though your baby may have grown older he or she is still little. They need supervision and guidance so be sure to turn on the parental controls on your television set. After listening to this session they probably won't care and even if they do... who's the parent?
THIS SESSION IS NOT YET AVAILABLE.
THIS IS A TEST. PLEASE DON'T PURCHASE